Why do people love to RV? Freedom! Touring the country in an RV (recreational vehicle) is comfortable, convenient, and liberating. You can go where you want when you want. There's no such thing as cutting an experience short in order to make it to your hotel before check-in time. You're driving it!

What exactly are motor homes? Motor homes are recreational vehicles that take their travelers anywhere they want to go. Motor homes are appealing to all sorts of people, from young families to retirees, and lend themselves well to all parts of the country, from the seashore to the mountains. The average RV owner is 48 years old, married with children, owns his own home, and has a household income of $40,000 per year.

A White Camper RV Drives Along a Country Road

How does RVing work? Well, depending upon your needs, there are several different types of RVs to choose from. Some RVs, like folding camping trailers, travel trailers, fifth-wheel travel trailers, and truck campers are towable vehicles, which means they are towed by another vehicle. Other RVs, like motor homes and van campers, are motorized, which means that they travel under their own power.
RVs can be rented, or you can buy your own. There are RV campgrounds located throughout the United States that provide a place for the RV to park and camp. Depending upon your itinerary, you may spend just a night at an RV camp, or you may spend an entire season there.
RVs come in a variety of sizes and can sleep a variety of people, from two all the way up to ten. You can spend as little as a few thousand dollars on an RV, or as much as nearly a million. Most RVs come equipped with dining and sleeping facilities at the very least, while the most luxurious of the models come with air conditioning, hot tubs, marble baths, and plush decorator interiors.
RV Photo Gallery
Camper parked near mountains in Alaska
---
RV towing a car on an Arizona desert highway
---
RV parked in the California desert
---
Camper on a Colorado road, with mountains in the background
---
Kansas RV park
---
Abandoned recreational vehicle in a North Dakota field
---
Camper parked at the base of a cliff in Utah
RVing Resources
Go RVing


Despite today's high fuel prices, an RV trip can be a fairly inexpensive vacation. Visit this website for a good set of RVing information resources.
www.GoRVing.com

RVDA


The National RV Dealers Association features an RV dealer locator where you can find information about buying or renting an RV.
www.RVDA.org
---
Copyright © Zeducorp.
All rights reserved.

RVing - Guide to RV Travel
Related Images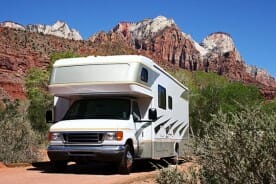 Recreational Vehicle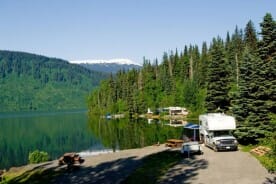 RV Park Near Alaska Lake